Start a new doc    or    

Search for an existing doc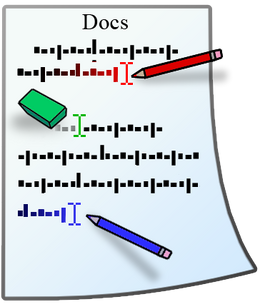 Welcome to Docs Wiki
This website allows users to type or post online documents or notes that can be viewed and edited by anyone online. Any user may edit or contribute to the content and collaborate with peers. The Discussion tab on the top right can be used for collaboration of the content. The URL of the specific posted page can be given to other people in real-life whom the user wishes to collaborate with.
Uses
Docs Wiki could be help for students who are working on a group project together and need to write and collaborate at the same time. In addition to collaborating upon documents or notes, files and photos may be uploaded to this site to host the files so they can be retrieved later by other users or transcluded onto other websites.
This website is similar in nature to Google Docs but in addition, this site allows users to participate without registering for an account on this site although many other features will become available upon registering such as the ability to upload files, and optional email alerts for pages which the user has collaborated in.
Like a sandbox wiki, this wiki can be used for any personal need by anyone. Use it to your advantage!
Get started!
To start a new document, click the button on the left-hand side that says Create a new doc with a pencil icon. On the next screen it will prompt a title, which is mandatory. Create a unique title so it doesn't conflict with existing titles, Examples of unsatisfactory titles: History report, My document, Video project. Example of a good title: Kevin and Amie's history speech, 02-09-2009.
The box below is where the content of the doc would be put. Don't worry, it can be modified later at any time. This site understands Wikimark up and basic HTML. (click links for a quick how-to)
Editing and modifying existing text is easy. Just click the "Edit this page" button at the top of the page to edit. This action can be preformed by anyone. To access a log of all edits, click "History". Reverting content modified by other users can be preformed in this manner.
To discuss the doc with another user, click on the "Discussion" tab on the top right and insert your thoughts, questions, or comments and users who visit the discussion page have the option to read and respond to your concerns. The option to be emailed when this happens is given to users who make a user account (free of charge and no spam). Discussion pages are different per page, so if a comment was left on a particular doc's discussion page, be sure to check back there to read it!
Let the people in real life know about your doc by telling them the URL of the doc so that they can contribute to it.
Additional questions can be asked here: Talk:Docs_Wiki
Rules
The only rule is respect. Please don't wreck other people's work unless it is in good faith and with a reason. Violators will be banned and blocked. All other actions are personal matters between you and the other people being collaborated with. Disputes should be solved individually but 3rd party help as well as administrative action can be requested.
Complete freedom. This wiki is for you, do what you believe is useful for yourself and others.
Disclaimer: Please be aware that all content on this site is publicity visible! Any content placed here can be found on search engines and through the internet by anyone. If you do want a particular page to show up, follow the quick directions listed here. Additionally, upon request, administrators may delete pages so content will no longer be visible on the net. Wikia, inc. or the creator of this wiki will not be held responsible for damages or losses caused by the use of this service. This is a free service, as such, no warranty of any kind is provided.
Community content is available under
CC-BY-SA
unless otherwise noted.